Abdo Zoom FAQ
Who do I contact for support using Abdo Zoom?
Contact us at [email protected] and explain the issue. Please include your organization name and username, as well as your operating system and browser version so we can troubleshoot. Or you can call us at 800-800-1312 from 8 a.m. to 5 p.m. central time.
How do I use the read-to-me function?
The main text, cool fact, key dates, and quick stats for every biography can be read aloud. Words on the page highlight as they are spoken. To have the text on a given section be read aloud, click on the blue button that looks like a speaker. The button is on the upper left corner of each tab and on the left side of the overlays. The sound may take a second or two to load. You can also pause the sound by clicking on the blue button again.
Why are some words blue?
The blue words are glossary words. If you click on them the meaning of the word will pop up.
What do the buttons at the top mean?
There are five buttons at the top of each page.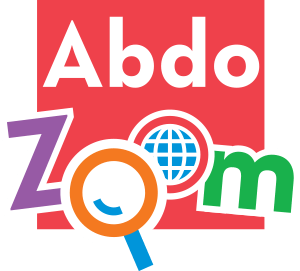 The Abdo Zoom logo in the upper left hand corner will take you back to the "What do you want to learn about?" page where you can switch among subscribed databases.
The red button with a house on it means "home." This button will take you to the specific database's home page.

The green button with a puzzle piece means "interactive games." This takes you to the database's interactive games.

When you are on a subject page, there will be an orange button with a printer on it. When you click on this button, you will be able to print.
When you are on a subject page, there will be a yellow button with an arrow pointing up from a box. When you click on this button, a window will open which will allow you to share the link to the subject page. You can either copy the URL or send it in an email.
Where do I find sample lesson plans?
Each Abdo Zoom database has sample lesson plans for grades K-2. Once logged in, click "Teacher Resources" in the bottom right. The lesson plans are single-page PDFs, so they can easily be printed out.
How do I log out?
To log out of Abdo Zoom, simply click the purple "LOG OUT" button in the bottom right.